Affiliate Companies
Affiliate Companies
With the motto of "Bringing Enjoyment 'N' Quality to Life", the brands under the BenQ Group excel in their respective fields and bring out best quality of products and services to everyone.
250+

Annual Revenue

100+

Countries of Service

80+

Branches

100+

Thousand Employees

60+

Sales and Marketing Hubs

33%

Staff are R&D, 90% of whom hold a postgraduate degree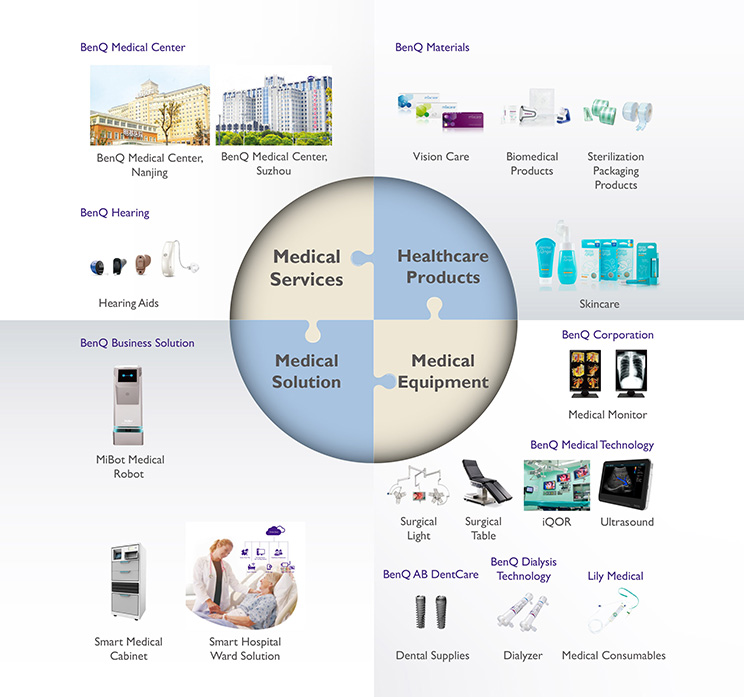 BenQ

Delivers Advanced Healthcare Services

BenQ draws on skills and expertise accumulated from our profound market experiences and clinical resources at BenQ Medical Center to provide market-leading medical equipment and personal healthcare products and service powered by the most advanced medical care technologies. BenQ's ultimate value is to provide a patient-focused healthcare value chain which everyone can trust to enjoy a healthier life.
The Business Strategies of BenQ's Medical
By investing over 10 billion NTD, BenQ Group has been working hard in the healthcare industry for over a decade. We focus on four of the most significant areas: professional medical equipment, medical solution, aesthetic medicine products and medical services.
With extensive experiences of ODM / OEM collaboration with numerous international medical suppliers, BenQ Group is confident in developing and enhancing medical products that help the world. In addition, BenQ is well-placed to take full advantage of resource-sharing. The diversified medical product lines allow us to avoid risks in development and production and to utilize integrated resources to meet the needs of front-line healthcare professionals.
History Of BenQ Medical
BenQ Medical Center, Nanjing
2008
2010
BenQ Materials Corp.
BenQ Medical Technology Corp.
2013
BenQ Medical Center, Suzhou
Lily Medical Corp.
BenQ AB DentCare Corp.
BenQ Dialysis Technology Corp.
2014
2017
BenQ Hearing Solution Corp.
New Best Hearing Ltd.
K2 Int'l Medical Inc.
2018
Professional Medical Services With Technology And Care
BenQ Medical Center is a patient-centered multidisciplinary medical practice that offers highly specialized healthcare services. Our 3,000 employees, including more than 800 physicians, are entirely devoted to providing best quality medical services.
By October 2018, the medical centers had served more than ten million people and gained public and industrial acclaim. BenQ Medical Center is comprised of Nanjing and Suzhou branches with 4,500 beds in total.
The medical center is the affiliated hospital of Nanjing Medical University and managed by the 4th Clinical Medical College.
It is also a training base for national doctors and is the paragon that integrates medical practice and academic research. The center is highly regarded as the model that brings the Taiwanese medical system to local practice.